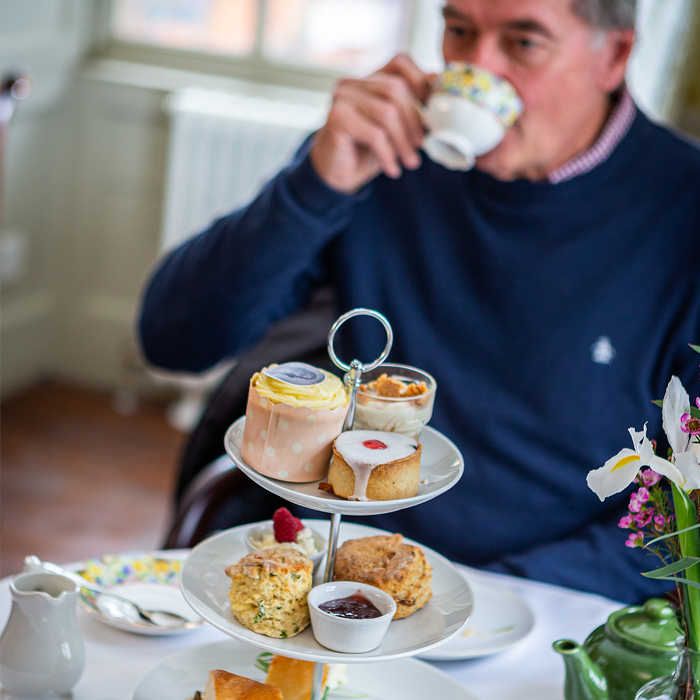 Returning Soon
After a busy 2022, we're taking a well-earned break from serving afternoon tea at Gunsgreen House. Normal service should resume later this year – keep an eye on social media for further updates!
We invite you to take tea where smugglers once hid their contraband from the Customs officers and counted their loot. Hear the stories of Gunsgreen House's original owner, John Nisbet – by day respected merchant of Eyemouth, by night a self-confessed notorious smuggler.
Your visit begins as you sweep up the grand steps through the imposing front door where Nisbet would have welcomed the notables of the day. Sit down to a genteel afternoon tea in the grand dining rooms once used to entertain guests and know that you are sitting on top of a myriad of smugglers' tales.
Which of these stories will you find to be true?
The hidden lead-lined chute built to conceal substantial quantities of tea, normally heavily taxed at 119%? The moving fireplace grate that allowed smugglers a passage to safety? Or that Nisbet's smuggling activities went on unhindered thanks to friends in the local Customs House?
Gunsgreen Afternoon Tea offers insight into the history of this architecturally important house, its links to smuggling and its importance to the wider economy of Eyemouth and the Berwickshire Coast.
Using authentic recipes and locally sourced produce, the cakes, biscuits and tea will add to the ambience of your visit. For an additional fee, clients can sample the brand new Gunsgreen House gin, Gunsgreen Cocktail or Prosecco.
Book Now